Announcements!
This is where you can see our updates on this wiki. Feel free to comment. =)
Auditions
Guys! If you want to be a part of the new season we're making, you may audition to the voices of the characters needed. You can be a Powerpuff, a Rowdyruff, a Powerpunk, a Strongershine, and other puffs and ruffs in the show. By the way, our new season of the PPGZ is:
The Powerpuff Girls Z Adventure Heroes!
Anyways, you can audition on the following characters listed below:
Bubbles (PPGZ)
Berserk (PPnkGZ)
Brat (PPnkGZ)
Brute (PPnkGZ)
Brick (RRBZ)
Boomer (RRBZ)
Butch (RRBZ)
Bunny (SSGZ)
Bell (SSGZ)
Banana (SSGZ)
Mojo Jojo (Villain)
Fuzzy Lumpkins (Villain)
Him (Villain)
And many more characters...
AUDITION NOW! Just record your voice and tell us whose character(s) are you going to audition, then upload it on Youtube.com and send the link to us.
Contact Bunnyboo50 or me for more details.
Other Works
If you don't want to audition but want to be a part of the show, kindly see this page:
The Powerpuff Girls Z Adventure Heroes!
Happy Wings Week!
This is our Happy Wings Week! There will be a contest. In order to join, create an account, edit your favorite characters (2 minimum) and add them with wings! Kinda corny huh, but I want to do this. =) Me and Bunnyboo50 will be the judges. Here are the details:
Contest starts NOW! If you have finished the masterpiece, send it to me, leave a message.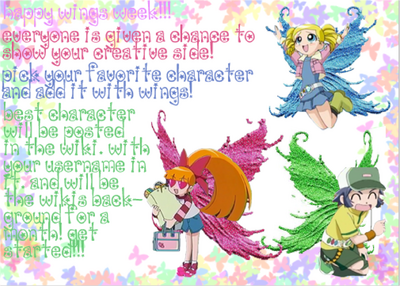 Ad blocker interference detected!
Wikia is a free-to-use site that makes money from advertising. We have a modified experience for viewers using ad blockers

Wikia is not accessible if you've made further modifications. Remove the custom ad blocker rule(s) and the page will load as expected.