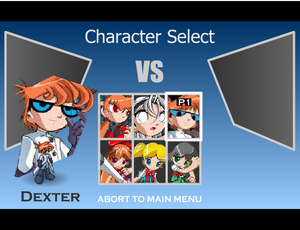 Battle in Megaville is a A Game based on Bleedman's PPGD. This game is a Fighting game 2-D. It has Moves from the and made up moves. It's a Computer game 2 players.there are also unlockable characters if you finished the story mode
there are also an Modified version of BiM that has more new playable characters.
Characters
Brick (main Playable character, Boomer (as backup), Butch as hyperbeam mode
Boomer (Mod version)
Butch (Mod version)
Mandark (Mod version)
Mandy (Mod version)
Samantha (Mod version)
Sensei Jack (Mod version)
Bunny (Mod version)
Bell (Mod version)
Attomic Betty (Mod version)
Princess Morbucks (Upcoming mod version)
Mac & Bloo (Upcoming mod version)
Jenny Wakeman (Upcoming mod version)
Unlockable Characters
Shira Bell
Secrets
PPGD: battle in megaville has many secrets.
Extra Options- You get to choose if you want infinite dash, Damage ratio, and more
Zim Survival mode: Fight zim in Survival mode
and others.
Video
Ad blocker interference detected!
Wikia is a free-to-use site that makes money from advertising. We have a modified experience for viewers using ad blockers

Wikia is not accessible if you've made further modifications. Remove the custom ad blocker rule(s) and the page will load as expected.