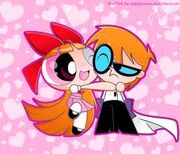 Blossom and Dexter's relationship is a on/off relationship. Blossom and Dexter never kissed before just like Brick and Berserk's relationship never did. In the episode
Change of Love And Personality
Blossom was walking in the hall and Dexter meantioned she was a beautiful girl and they mostly started having a relationship. Blossom is far more in love with Dexter then Dexter is with her. A upcoming episode called
A New Leader of the Rowdyruff Boys
Brick went off single because he was evil now so Butch and Boomer needed a new leader. They asked Dexter because he is a lot like Brick is. He is smart, hotheaded, aggressive, and loves Blossom like Brick used to. In some episodes he is seen with his glasses off because when he got older he started to gain more eyesight. People comment Blossom and Dexter's relationship as the "Perfect Couple". But sometimes Blossom and Dexter get in a lot of fights like Blossom and Brick used to do like in the upcoming episode
Blossom and Dexter's Fight
Dexter left Blossom for a while and Blossom was heartbroken and wanted Dexter back. Dexter came back because he saw how heartbroken she was. But in the upcoming episode
Aku returns
Blossoms ex-boyfriend named Aku came back to her and Dexter was jealous. But at the end of the episode Aku broke her heart by saying she was a ugly loser so Dexter fought him and Aku went back where he came from. Blossom was seen crying but Dexter cheered her up by telling her she was a beautiful talented girl. Even though they had tried dating for a couple of months it just didn't happen because Brick was so angry Blossom was hanging out with another guy. Blossom tried to convince Brick the she should date Dexter But Brick refused and Blossom sadly didn't date Dexter again, although they are still friends.
Ad blocker interference detected!
Wikia is a free-to-use site that makes money from advertising. We have a modified experience for viewers using ad blockers

Wikia is not accessible if you've made further modifications. Remove the custom ad blocker rule(s) and the page will load as expected.