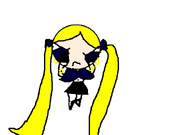 Bramble
Bramble is the youngest of the shadowpunks.
She usually is sassy like Brat.She wears a dark blue jacket and wears boots.She is not a crybaby like Bubbles,she is really evil.She has long pigtails ,unike Bubbles who has short pigtails .She was made from salt.She represents dark blue bubbles.Her sisters are older than her.Her male counter part is Bram (nickname).
Ad blocker interference detected!
Wikia is a free-to-use site that makes money from advertising. We have a modified experience for viewers using ad blockers

Wikia is not accessible if you've made further modifications. Remove the custom ad blocker rule(s) and the page will load as expected.