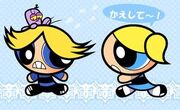 N:Welcome back to Couples Interview our second couple tonight is Bubbles and Boomer.
Bubbles: Thanks
Boomer:Yah
N: So are you happy that Fans like you toghether the Most.
Bubbles: Yes
Boomer:Yah
N: And are your afraid of Inferno?
Bubbles: Um
Boomer: Yah
N: Last Question Boomer why do you say Yah?
Bubbles: Yah why do you say that
Boomer:Yah
N: Uh well look at the time we go to go to the next couple.
Ad blocker interference detected!
Wikia is a free-to-use site that makes money from advertising. We have a modified experience for viewers using ad blockers

Wikia is not accessible if you've made further modifications. Remove the custom ad blocker rule(s) and the page will load as expected.