The
Emergency Ops Center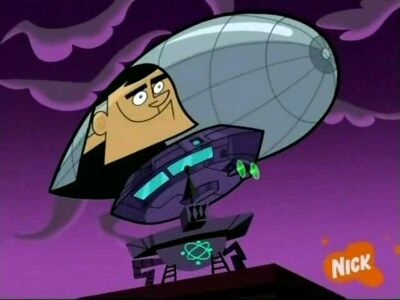 is a special observatory built on the roof of the Fenton's house. The Ops Center can be reached through a secret elevator going from the master bedroom to inside the center's fridge. The center itself is heavily armed to defend the house from any sort of threat, whether it be armies of ghosts or determined government employees. The interior is also equipped with a radio center, weapon storage lockers, and even a guest bedroom. In
especially
dangerous emergencies, the Ops Center can detach itself from the roof and turn into a blimp by pressing a button hidden in the fridge, one that is easily missed if not for the emergency ham which is next to the button it was put there so Jack wouldn't miss it as the Ham is the one place that Jack immediately goes to everytime he visits the ops center. A second button under the ham itself streamlines the Ops Center into an ultrafast jet. On a humorous note, the Ops Center also has an autopilot which is an inflatable Jack Fenton figure also known as the Auto-Jack, which spoofs the comedy movie
Airplane!
The Ops Center, in jet form, was destroyed in Reality Trip when the Guys in White had bombed it at the Huntsville Space and Rocket Center.
Origin
A special observatory built on the roof of the Fenton's house. The Ops Center can be reached through a secret elevator going from the master bedroom to inside the center's fridge. The center itself is heavily armed to defend the house from any sort of threat, whether it be armies of ghosts or determined government employees. The interior is also equipped with a radio center, weapon storage lockers, and even a guest bedroom. In especially dangerous emergencies, the Ops Center can detach itself from the roof and turn into a blimp by pressing a button hidden in the fridge, one that is easily missed if not for the emergency ham which is next to the button it was put there so Jack wouldn't miss it as the Ham is the one place that Jack immediately goes to every time he visits the ops center.
Gallery
Ad blocker interference detected!
Wikia is a free-to-use site that makes money from advertising. We have a modified experience for viewers using ad blockers

Wikia is not accessible if you've made further modifications. Remove the custom ad blocker rule(s) and the page will load as expected.