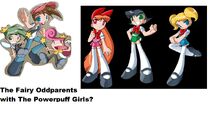 A special crossover with Cartoon Network,Boomerang and Nick. When The Powerpuff Girls and The Powerpunk Girls fight, they open a dimension hole into Dimmsdale, California. Timmy Turner is in his bedroom on his computer trying to do his homework, while Cosmo and Wanda are too busy taking care of Poof. As of them, The Powerpunk Girls arrive and appear in Timmy's room. Timmy feels attraction towards them, and even tries to sweet talk them with his sentence ending with Brat grabbing him with her pigtail. Berserk has gone berserk due to the fact being homesick and sits on Timmy's bed. Meanwhile, The Powerpuff Girls are teleported to Crocker's lair.
Voices
Cathy Cavandini: Blossom, Berserk
Tara Strong: Bubbles, Brat, Timmy, Poof
E.G. Daily: Buttercup, Brute
Daran Norris: Cosmo
Susanne Blakeslee: Wanda
Carlos Alazraqui: Crocker
Ad blocker interference detected!
Wikia is a free-to-use site that makes money from advertising. We have a modified experience for viewers using ad blockers

Wikia is not accessible if you've made further modifications. Remove the custom ad blocker rule(s) and the page will load as expected.